15 November | Polaris Inc.'s wholly acquired subsidiary-Polaris India Pvt Ltd inaugurated its 92nd attractive off-road adventure track-Polaris Experience Zone (PEZ) in Shukra in Greater Noida.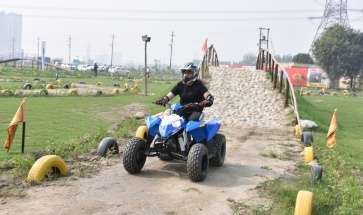 It is a thrilling adventure zone. Veda Adventures has become the 92nd PEZ in India. Extending over an area of ​​7.5 acres, Veda Adventures is an adventure zone with many exciting activities. There is a dedicated track to experience the Polaris ATV, which is 585 meters long. It not only offers the thrill of off road and ATV vehicles of Polaris, but people can also experience a great ride on special designed tracks and routes. PEZ has a fleet of 5 Polaris ATVs.
Pankaj Dubey, Managing Director, Polaris Indija Pvt Ltd, said, "We are ready to develop the culture of off-roading in Uttar Pradesh and across India. We provide an incredible experience to adventure sports lovers. Our growth is enthused with Indian customers , Who are ready to experience the thrill of offering. Recently, especially in the North Zone PEZ space Esh is the increased interest of entrepreneurs. "
Veda Adventures features artificially created wavy tracks, which have exciting obstacles. They have slopes and slopes, which provide challenging entertainment to the riders. The presence of skilled trainers in the zone allows riders to experience the thrill of off-road vehicles, ATVs in a safe environment. These highly skilled trainers not only ensure the safety of the riders, but also help them increase ATV riding skills.